Courtesy of Catherine Miller STOCK JOURNAL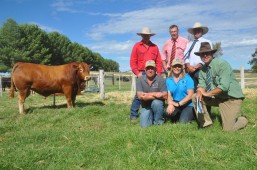 AN outstanding, well-muscled, apricot Limousin sire turned plenty of heads during Mandayen stud's 12th annual on-property bull sale on Wednesday last week at Keith, topping the sale at $19,000.
The May 2015-drop poll bull offered by stud principals Damian and Mandy Gommers was 'bred in the purple', being out of a top donor cow – Mandayen Jill C967 – and sired by Mandayen Vision C1054.
A full brother has been retained by the stud and two ET-bred sisters were the lead winter-drop heifers in the female sale.
Buyer John Gaffney, Graneta stud, Bell, Qld, was confident Vision L51 would breed bulls well-suited to their Qld Central Highlands market.
"I didn't come all the way from Qld to not go home with the one I wanted," he said.
"I was chasing an apricot bull to breed smooth muscled, soft bulls. We have enough muscle in the herd so are looking for softness which it will give us."
The 756-kilogram bull had a great phenotype and the Breedplan figures to match, with calving ease, growth and carcase traits in the top 1 per cent to 10pc of the breed.
The Graneta herd has a strong Mandayen influence, with Mr Gaffney buying several other top price bulls in the past with great success.
The $14,000 second-highest price bull – Mandayen Vision L49 – was an ET sibling to the sale-topper. It sold to Limstow stud, Benalla, Vic.
The other Limousin bull to make five figures was lot 2 – Mandayen Payday L29 – which was knocked down at $12,000 to Tammit Station, Euston, NSW.
It was sired by 2014 Limousin National champion Summit Payday H28.
Commercial buyers made the most of good buying, which actually saw the average drop $781 on the 2016 sale. Twenty eight bulls sold for $4000-$6000.
Broad Cattle Company, Hallett, bought five bulls averaging $4200, while Conner Pastoral Co, Tintinara, bought four bulls at $5000 each.
Mandayen remains committed to breeding Limousins, but diversified into Angus in 2010.
Bids flew for the stud's first offering of Angus incorporated into the sale, resulting in a total clearance of the 21 autumn and spring 2015-drops, averaging $7809.
Barry and Marie Farmer, Kangaringa Station, Keith, bought the $12,500 top price Angus, which was the lead spring-drop bull Mandayen Conversion L480.
The 692kg son of high-profile United States sire Silveiras Conversion and out of a Bull Oak Well female had tremendous carcase merit and growth for age.
It was in the top 10pc of Breeplan figures for 200- and 400-day weight and top 5pc for eye muscle area.
Conversion L480 was one of four bulls Kangaringa Station bought, averaging $9000.
"We were looking for positive fat and good growth figures and in the sand country we need good structure and good feet," their Landmark Keith agent Noel Evans said.
The Cowley family, Roseleigh stud, Keith, paid the $12,000 second-highest price for lot 82 – an impressive son of EF Complement.
Mr Gommers was satisfied with the near-total clearance of Limousins, knowing a few of their regular clients did not require bulls this year, and was thrilled with their inaugural Angus sale.
"The opportunity came up to move into Angus Week, we really wanted to do it next year, but we are really happy we did it and can't wait to show next year's line of bulls," he said.
The sale was conducted by Elders, Landmark and Spence Dix & Co, with Ross Milne, Richard Miller and Jono Spence the auctioneers.