Courtesy of Catherine Miller STOCK JOURNAL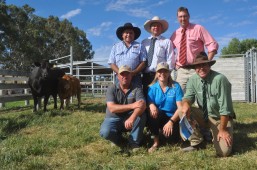 Buyers from five states seized the opportunity to secure top females from one of the most respected Limousin studs in Australia.
Stud principals Damian and Mandy Gommers sold 64 of 69 females offered in their Matrons of Mandayen sale, averaging an impressive $5180.
Tony Sutcliffe, Paterson, NSW, bought the $18,000 sale-topper – a sensational cow and calf unit for his newly-established Toebelle stud. It will be used as an ET donor female.
The lot 5 female – Mandayen Starr E1410 – was elevated to lot 1 and set the pace of the biennial female sale. The 2009-drop black female was a daughter of United States sire Hunt Mr Jock 44J. It had a five-month-old apricot bull calf sired by Wulfs Zander.
"It is a powerful looking cow and the complete package to kick off our stud," Mr Sutcliffe said.
He bought two other mature females at $5000 and $8000, plus four top young heifers to $6000.
A highlight was the complete offering of 'L drop' heifers and chance for buyers to secure exciting new genetics from the heart of the herd – 33 of the 36 lots averaged $4182.
Tooronga Limousins, Emu Creek, Vic, paid $8000 for the best pregnancy-tested in-calf heifer – Mandayen Jill L208. The red coated poll was a daughter of Wulfs Zander X921Z and in-calf to RUNL Xtra Loyal.
Three embryo packages sold to $1100 an egg and averaged $835 an embryo.
"The guys who know the cattle really flew into those top females and there was good value through the whole lot," Mandayen stud manager Simon Bayne said.