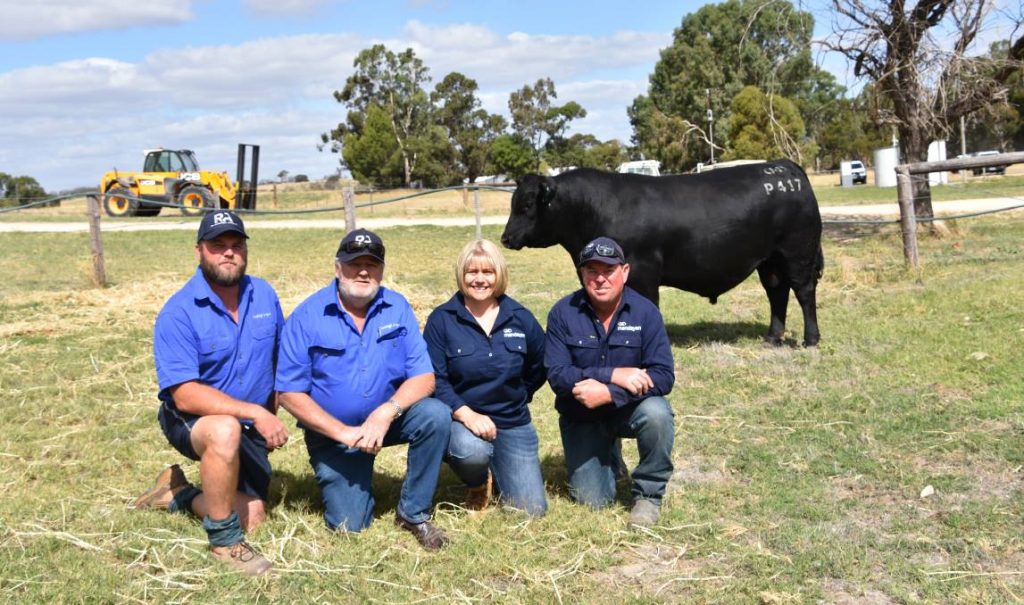 BIDS reached new levels at Mandayen's fourth annual on-property Angus bull sale at Keith on Wednesday last week, with a stud record top price of $31,000 achieved.
The $31,000 result not only eclipsed the 2019 Angus sale top of $18,000, but also knocked off the stud's Limousin record of $28,000 set in 2016. A huge crowd and 74 registered buyers were on-hand to see all 44 Angus bulls offered in the two-breed line-up clear for a $8818 average.
The stud record came at lot 73 for the highly-admired Mandayen Hector P417, a son of Coonamble Hector H249 and out of two year old Mandayen Brenda M401. It weighed 900 kilograms at less than 21 months of age and was knocked down to Mat Cowley, Roseleigh Angus stud, Pinnaroo, with Mandayen retaining semen for within herd use.
Hector P147 had outstanding phenotype and estimated breeding values to match – including +56 for 200-day weight, +101 for 400-day weight, +142 for 600-day weight, +1.1 rib fat, +2 rump fat and +2.5 for intramuscular fat. These growth traits put P147 in the top 5 per cent of the Angus breed for growth, while achieving top 3pc for net feed efficiency.

Mr Cowley admired the bull for its structure, feet and legs, soft skin, weight for age and good IMF, and said the bull also offered outcross genetics for the Roseleigh stud.
Bidding throughout the catalogue was very strong on an even offering of industry-focused genetics, with eight bulls making $10,000 or more.
Two highly-regarded commercial operations that operated at the top end were McCarthy Livestock, Lucindale, which bought five bulls to $9500 three times, averaging $9200, and Amherst Livestock, which bought four bulls to $10,000, averaging $9500.
Elders Lucindale agent Ronnie Dix saw the Mandayen sale bulls during Stock Journal Beef Week and impressed with what he saw, recommended McCarthy Livestock's Simon McCarthy attend the sale.

"The bulls are excellent type, soft, easy-doing with good structure and grunt," Mr Dix said.
McCarthy Livestock have a large European Union-accredited cow herd and target the weaner market, and selected both cow and heifer bulls.
Amherst's Ian Johnson said the Mandayen bulls were "industry-relevant, moderate cattle with muscle, shape, good toplines and butt shape, softness and fat cover that suit our market requirements".

Other volume buyers who bought three bulls each were Spinifex Pastoral, Swan Hill, Vic, averaging $8833 and M&S Alexander, Nairne, who averaged $5666.
Mandayen stud principal Damian Gommers was overwhelmed with the support from repeat and new clients in only the stud's fifth year of selling Angus bulls.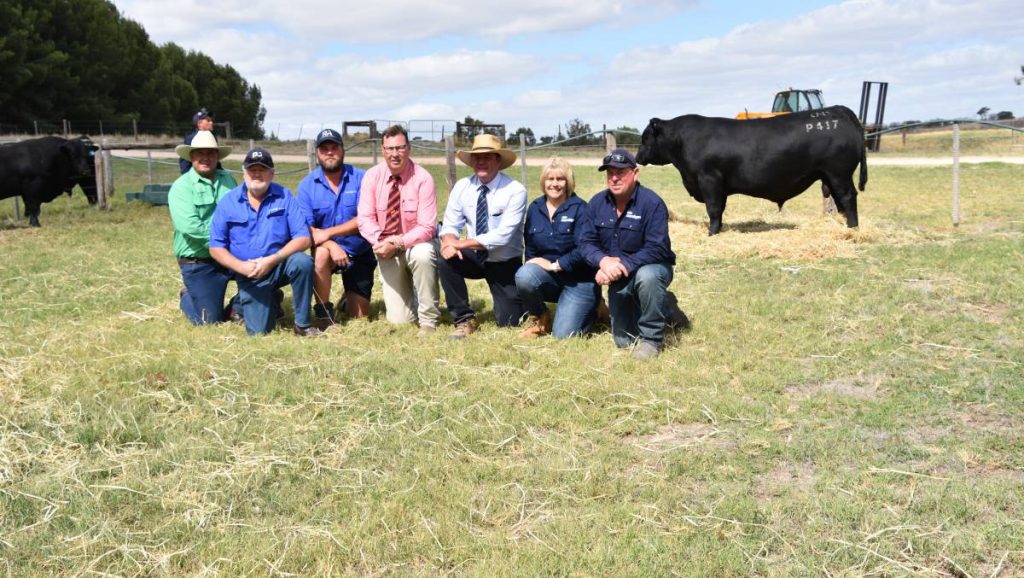 "I am really proud to sell our record price bull to the Cowley family that I have a lot of respect for and their Roseleigh stud being one of the longest established Angus studs in the state," he said.
The sale was conducted by Spence Dix & Co with Jono Spence sharing the auctioneering duties with Elders' Ross Milne.
"I love the phenotype of the Mandayen cattle and it is good to see clientele not too figures orientated," Mr Spence said.

Mr Milne said the Angus bulls were "outstanding and an endorsement of Mandayen's investment in top genetics with the sale being true to value".